Usted tiene derecho a que lo traten de manera justa en el mercado financiero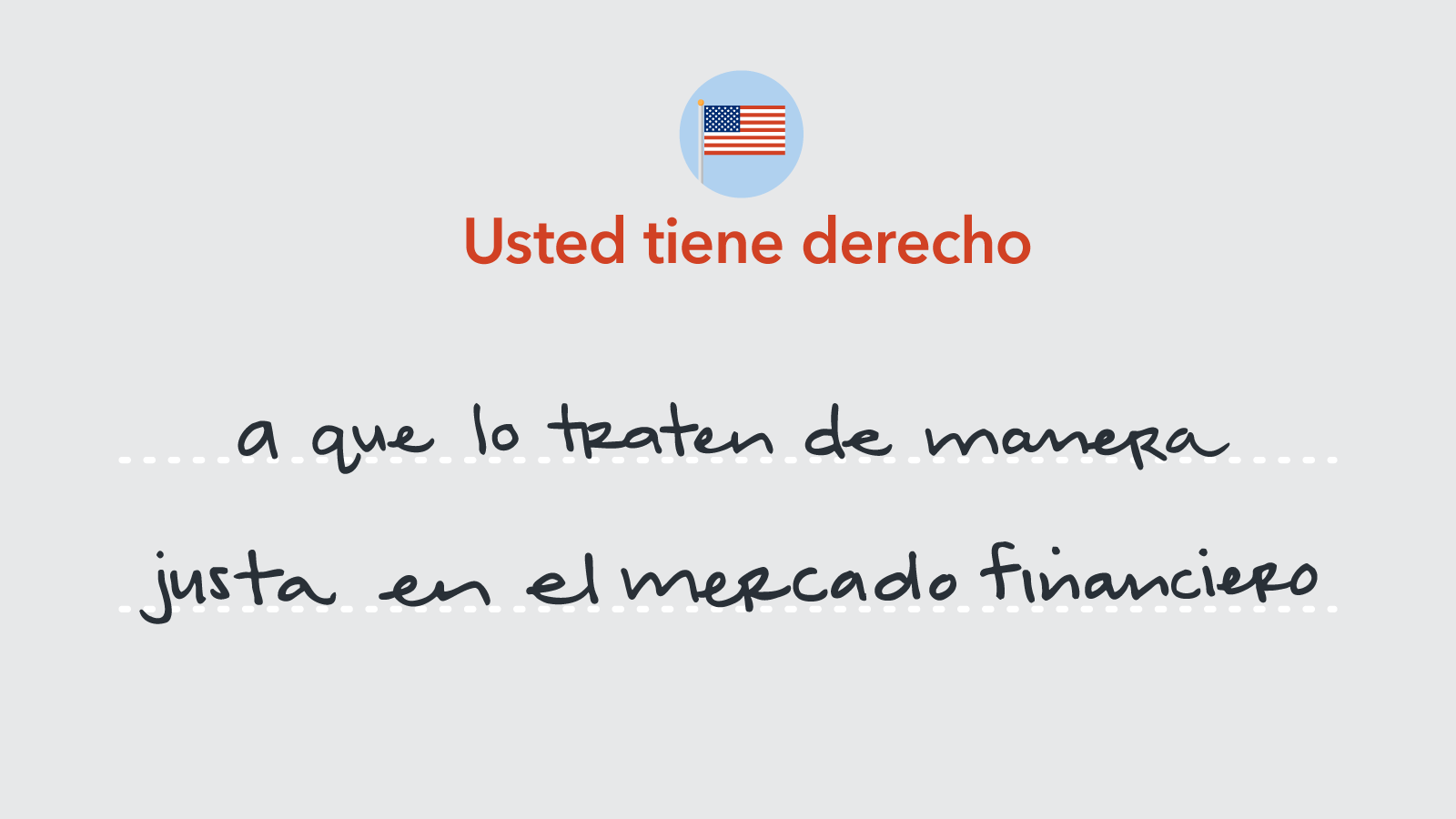 Dependemos de los bancos y otros prestamistas para evaluar nuestra solvencia de manera justa a fin de que nos presten el dinero para comprar, bien sea una casa o un carro, o para sacar una tarjeta de crédito. Si a usted se le niega crédito basado en su raza o color, eso no se permite. Si le cierran la cuenta de crédito basándose en su origen nacional, eso también está prohibido. 
De hecho, es ilegal que un cobrador le discrimine en cualquier aspecto de una operación de crédito por motivos de raza, color, religión, origen nacional, sexo/género, estado civil, edad, o si recibe ingresos de un programa de asistencia pública, o si ejerce sus derechos de buena fe bajo ciertas leyes de protección al consumidor. 
Algunos ejemplos de discriminación ilegal incluyen: 
Negarle crédito debido a su raza

Desanimarle para que no solicite crédito debido a su estado civil

Ofrecerle crédito bajo condiciones menos favorables (tal como una tasa de interés más alta), debido a su origen nacional, y en comparación con las que le ofrecerían a otra persona con calificaciones similares

Cierre de su cuenta debido a su sexo 

Nuestra Oficina de Crédito Justo e Igualdad de Oportunidades (Office of Fair Lending and Equal Opportunity) se ha comprometido a garantizar acceso al crédito, y a la búsqueda y eliminación de las prácticas de préstamos discriminatorios. Parte de esa misión es asegurarnos de que usted sepa que tiene derecho a un mercado financiero justo. 
Detener el daño
Estamos aquí para ayudarle a proteger sus derechos. Una de las maneras de hacerlo es mediante la adopción de medidas legales contra prestamistas que utilizan prácticas discriminatorias. 
En el 2015, trabajamos en conjunto con el Departamento de Justicia de los Estados Unidos para tomar medidas contra el Hudson City Savings Bank, quien durante los años 2009 a 2013 desanimó a prestatarios potenciales en barrios de mayoría afro-americana e hispana en Nueva Jersey, Nueva York, Connecticut y Pensilvania para que los mismos no solicitaran crédito. Tras la liquidación resultante, el banco accedió a proporcionar más de $27 millones en subsidios y programas de extensión de hipotecas por el término de la liquidación durante los años subsiguientes, y a pagar una multa de $5.5 millones. Esta fue la liquidación más grande en la historia del redlining, según lo medido por subsidios directos.
También tomamos medidas contra prestamistas indirectos para la compra de automóviles, como Fifth Third Bank y American Honda Finance Corporation en el 2015. Fifth Third y Honda les permitieron a los distribuidores la opción de aumentar las tasas de los préstamos para automóviles, hasta un 2.5 por ciento y 2.25 por ciento, respectivamente, lo que hacía que los prestatarios minoritarios pagaran más. Estos prestamistas de automóviles indirectos tendrán que pagar en combinación $42 millones a los consumidores que afectaron. Bajo los términos de los acuerdos, se requiere que los prestamistas cambien sus sistemas de fijación de precios y de compensación para reducir sustancialmente o eliminar la discreción del distribuidor y reducir al mínimo cualquier riesgo de discriminación. 
Prevenir el daño
Otra manera en que protegemos sus derechos ocurre cuando ayudamos a las instituciones a prevenir daños en primer lugar. Eso lo hacemos mediante la revisión de las prácticas de préstamos justos y de las políticas de las instituciones de crédito. En el 2015 examinamos y evaluamos numerosos bancos y otras instituciones financieras para asegurarnos de su cumplimiento con las leyes de préstamos justos. También trabajamos con otras agencias gubernamentales para promover la aplicación coherente, eficiente y efectiva de las leyes federales de préstamos justos. 
Puede leer más sobre el trabajo que hicimos en el 2015 en nuestro cuarto informe sobre el Crédito Justo (Fair Lending report) disponible en inglés. 
Protéjase 
Si cree que un prestamista ha discriminado en su contra o si se encuentra en problemas con una hipoteca, préstamo de auto, tarjeta de crédito, u otro producto de crédito, queremos saber de usted. Puede presentar una queja en línea o llamar al (855) . 
También, puede visitar nuestro sitio web para
obtener más información sobre las señales de alerta sobre la discriminación y lo que puede hacer para protegerse
.